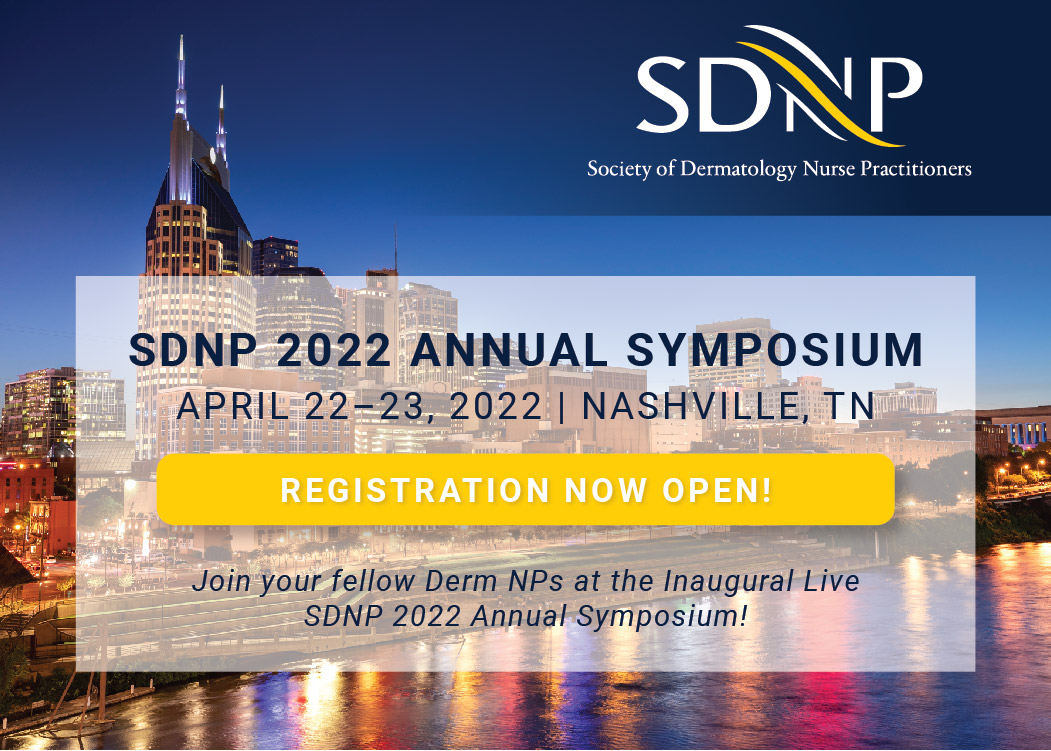 SDNP is excited to announce that registration is now open for the 2022 Annual Symposium! Join us for our third annual symposium at the Gaylord Opryland in Nashville, TN. We will have educational sessions on Friday and Saturday, April 22nd–23rd, and a Certification Review Course on Sunday and Monday, April 24th–25th. You will gain valuable information specific to the professional practice of Dermatology NPs. Grab your colleagues, family, and friends and help celebrate this epic event! We're here for you because what we do as dermatology nurse practitioners matters more than ever.
---
Society of Dermatology Nurse Practitioners
The mission of the Society of Dermatology Nurse Practitioners (SDNP) is to promote excellence in advanced practice dermatology nursing. 
Vision
The SDNP promotes the highest quality of care in advanced practice dermatology through education, specialty certification, evidence-based clinical practice, and interprofessional research.
Values
We believe in:
the provision of  high-quality services to all of our members regardless of age, race, color, religion, national origin, gender orientation, mental abilities or ability to pay for services.

maintaining honest, transparent, accountable and responsive interactions with stakeholders.

promoting the highest standards of excellence in Dermatology NP practice, and

promoting professional collaboration with all dermatology providers, academic and healthcare institutions.
Membership
Become a member of SDNP! Your membership will support SDNP in becoming the leading organization for Dermatology Nurse Practitioners. Member Benefits to come! 
SDNP 2021 Virtual Symposium
On behalf of the Society of Dermatology Nurse Practitioners, thank you to all who participated in our 2021 Virtual Annual Symposium. We hope that you found the presenters and program educational and interesting. We had 125 people register to attend the program and we appreciate your support. If you attended the symposium and would like to view the meeting recordings again, please click blelow. In order to view the page, you must be signed into the SDNP site with the account that you used to register for the symposium.